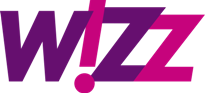 All information about Wizz Air baggage allowance and fees in one page!
To see paid Wizz Air baggage allowance and fees please look below.

Information about free Wizz Air baggage limits:
Free Cabin baggage limits
Free Checked baggage limits
WIZZ AIR
baggage
42x32x25cm
None
To know more about Wizz Air baggage allowance and fees: https://wizzair.com/en-GB/useful_information/baggage
Updated March 31, 2016
More detailed information about Wizz Air baggage allowance and fees below:
Wizz Air Carry-On/Cabin Baggage Allowance
Wizz Air offers two cabin baggage options, but has a strict "one cabin baggage per passenger" policy. The difference between the options is the size.
Small cabin bag:
If your cabin baggage is of size 42x32x25cm or smaller it can be taken onboard free of charge. It must fit under the seat in front of you.
Large cabin bag:
If your cabin baggage is larger than the dimensions of a small cabin bag but not exceeding 56x45x25cm, you can take it onboard for a fee. It must fit in the overhead compartment. You must be able to place it in the overhead compartment unassisted.
Wizz Air Checked Baggage Allowance
The maximum dimensions for one piece of baggage to fit through the cargo hold door are:
Width: 149.9 cm
Height: 119.4 cm
Length: 171.5 cm
Due to health and safety reasons the weight of any one piece of checked-in baggage must not exceed 32 kilograms (70 lbs).
Passengers are entitled to carry up to 6 pieces of checked-in baggage on flights operated by Wizz Air Ukraine (airline code WAU) if the weight if each piece does not exceed 23 kg (50 lbs). The sum of three dimensions of the separate article of baggage (length, width, height) shall not exceed 158 cm.
Wizz Air Sporting Equipment and Musical Instruments Allowance
Carriage of sporting equipment is subject to a sporting equipment fee and must be indicated and paid for during the booking process.
Please read carefully the packaging requirements below. If those requirements are not fulfilled, Wizz Air will refuse carriage of the item. Please note that Wizz Air does not provide packing material. All the items mentioned below can only be carried as checked-in baggage.
Sporting Equipment fee via wizzair.com & call centre
Per flight, per passenger and per bag – 30 EUR / 26 GBP
Sporting Equipment fee at the airport
Per flight, per passenger and per bag – 40 EUR / 34 GBP
a) Ski Equipment, Snowboard, Surf Equipment, Golf Bags must be packed in a pouch.
b) Jumping poles can only be accepted for carriage if packed in textile sacks.
c) Bicycles can only be accepted for carriage if they are packed in bicycle travel case, or in nylon sacks, the wheels and pedals are removed and the handlebars turned parallel. They may also be accepted if packed in cardboard provided the tyres are deflated.
d) Diving Equipment can only be accepted for carriage if the diving cylinders are empty and the power source or bulb has been removed and the switch has been secured in the "OFF" position.
e) Antlers and Trophies can only be carried if a valid veterinary certificate is presented by the passenger.
Damaged, Fragile, Bulky, Inadequately Packed, Late Check-in and Oversized Baggage will only be accepted for carriage with a "Limited Release" Baggage Tag and Wizz Air will not accept liability for such items.